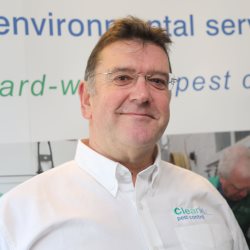 Paul Bates - Managing Director
Paul Bates knows pests and the pest control industry inside and out and hasn't looked back since starting his career as a pest control technician with Rentokil in1981. After a year he was promoted to pest control surveyor and in 1986 he won the accolade of Chief Executive Award Winner for being one of the top 15 sales people in Rentokil Group. He was promoted to sales manager in 1987 and then branch manager in 1991. In that role Paul was in charge of one of the largest and most challenging pest control contracts – the successful treatment of the London Borough of Southwark's Peckham housing estates for cockroaches.
Paul joined Cleankill in 1997 as Managing Director and has helped the company grow from a turnover of £30,000 to over £2 million. 
Paul is a regular guest on BBC Radio Sussex and Surrey and is frequently quoted in the local and national press. He is a Fellow of the Institute of Leadership and Management and is often invited to chambers of commerce, networking events and schools and colleges to give talks on anything from communication to pest control. Paul is also on the advisory panel for ARMA – the Association of Residential Managing Agents which aims to raise standards in the residential block management industry.
Paul, who lives in Kenley, South Croydon, has two grown up children and sings tenor in a church choir while also having spent 11 years as a church warden at St James church. He is a Cub Scout Leader of the 11th Purley (St James' Riddlesdown) cub pack, a role he first took over in 1983. Several years ago his dedication was recognised with the Chief Scout's Medal of Merit for Outstanding Service to Scouting.
Sport is a big part of Paul's life. He is a Crystal Palace season ticket holder and enjoys attending matches with his family. He is also a very keen tennis player competing at county level and for his club in Riddlesdown, Surrey. Paul loves to cook for his friends and family and travel to interesting places like China.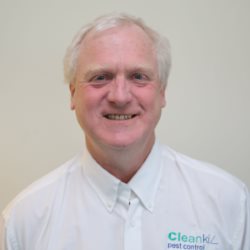 Jonathan Whitehead - Operations Director
Jon joined Rentokil in 1983 as a service technician and quickly moved on to become a supervisor and eventually service manager. He co-founded Cleankill with Clive Bury in 1995 with the intention of providing a service that put the needs of the customer first and foremost. Over the years, Jon has continued his ongoing learning and specialises in the health and safety accreditations of the business. Jon is married and has two children. He is very active in local chambers of commerce and is a former president of the Newhaven Chamber of Commerce. He has also been involved in many charitable works with the Round Table which included climbing Triglav mountain in Slovenia with fellow director Paul.
Clive Bury - Service Director
Clive joined Rentokil as a service technician in 1985 and, like Jon, quickly moved through the ranks of supervisor and service manager, before changing divisions to manage the London branch of a medical services operation.
He and Jon then decided that they should set up a customer-orientated pest control company. Clive's Uncle came up with the idea for the name and the rest, as they say, was history. Clive helped to introduce a 'Magic Pen' reporting system, which enables pest control reports to be sent digitally back to the office within minutes of being completed at the customer's premises.
Clive is married with two children and has also been involved with the Round Table. He has an active interest in motor biking and regularly provides an emergency service to Cleankill customers on his bike. He is also a drummer and performs regularly with a covers band in his spare time. Clive is also a keen beekeeper. To learn more about this hobby, click here.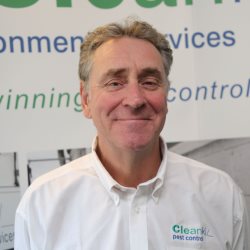 Ian Miller - Sales Director
Ian joined Rentokil as a service technician in 1980 and became a surveyor selling pest control services in South London. He moved to Standby Pest Control in 1996 before being tempted to join his old colleagues at Cleankill where he now holds the post of Sales Director.
Ian is married with three children. He plays competitive hockey every week for Brom Becks Super Vets team and has also been selected for the South England over 55 Veterans Hockey team. He also coaches a youth hockey team in his spare time.
Ian's claim to fame was in 1977 when, aged just 17, he appeared on Top of the Pops with his band Bo Flyers on New Year's Day. His band released three singles with one reaching number 49 in the charts. Nearly 40 years later Ian still enjoys playing his guitar to relax and has a growing collection of guitars.